Read the reviews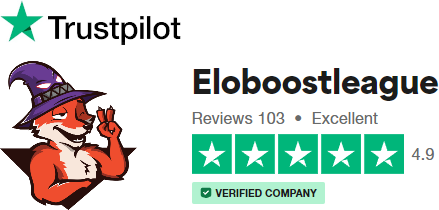 4.9 out of 5 stars (based on 104 reviews)
Superb performances from the booster
Superb performances from the booster, was pretty impressed with everything
Success!
I was skeptical at first (hence why I'm leaving my review, in case someone else is skeptical).
I chose duo queue with a normalized score. Scheduling was whenever I was available to play, I wasn't rushed, so we took our time across multiple days. KDA was subtle enough. Won almost all our games, but at a glance it's not too suspicious. Didn't get flamed by booster or anything either, they were mostly quiet throughout games, occasionally typing in chat for shotcalling purposes.
Exactly what I wanted 🙂 – Got diamond!
If I were to do this again, this is the site: it's one of the best prices, lots of flexibility in options, and live chat/support for any questions.

Thank you so much. <3
Great work awesome people
Was fun to play with the booster and I got Diamond for the rewards =D
Boosters were great and respectful
Boosters were great and respectful,
orderd DuoQ so it took a while since I was not always available all a great experience.
Boost to diamond 3
Boost to diamond 3 done without any problems. Thanks!
About Duo LoL Boosting
What is LoL Duo Boosting?
LoL Duo Boosting is a gaming service in LoL which allows players who take advantage of this service to rank up their accounts in the ranked ladder by queueing up with a player of a higher caliber( a booster) to win games in their marches. This method of boosting is different from other kinds of boosting types most of all due to the fact that the player can play on the account during the ranking process. When using LoL Duo Boosting services, the booster will always be playing from an account that is ranked in the similar tier as the service buyer, making no changes in the difficulty of the games being played but drastically increasing the odds of winning.
Why should I buy LoL Duo Boosting?
Everyone would like to play together with a player who's they're able to have a good dynamic with but often the trial process of such outcome takes too long which can be shortened drastically by queueing up someone who's familiar with all playstyles. Not only is it a way more effective way to take part of the ranked queue but it's also a largely more fun and more social way of playing the game. There are no downsides of queueing up with another player, after all, LoL is about teamwork.
Who are the boosters I can queue up with in LoL Duo Boosting?
You will queueing up with the top of the cream of the players in your server. We will always queue you up with a Challenger player that's playing every day on your server and plays on the same schedule as you to maximize the speed of the process and allow you to have as flexible time as possible.
How often can I play duo with my booster?
Being Eloboostleague's customer comes with an advantage of having your order designed with the speed and schedule of your choice, no matter what your wish would be. Want to play only 1 game per day? No problem! Simply write us your desires and requests in the notes or discuss this with your booster in the member's area.
Can I choose who I play with?
If someone has left you a good impression and you've found a magical connection between you two then you can let us know of your booster preferences in your notes or live chat and we will make sure that the very next moment your favorite person becomes available that they would be ready to play with you.
5 Years of Experience

24/7 Live Chat

Money-back Insurance

Players from your Country